Found 3 posts tagged 'Natural teleology'
December 14, 2017
Ervin Laszlo discusses his book The Intelligence of the Cosmos: Why Are We Here? New Answers from the Frontiers of Science.
(Stream / download audio at bottom of page)
For the outdated mainstream paradigm, the universe is a giant mechanism functioning in accordance with known and knowable laws, patterns, and regularities. But the new paradigm emerging in science offers a different concept – a universe as an interconnected, coherent whole, informed by a cosmic intelligence. This is not a finite, mechanistic, purely material model – it is a holistic system infused with consciousness, and within it, we are conscious beings who emerge and co-evolve as complex vibrations in what Laszlo calls the Akashic Field of the universe.
With his collaborators from the forefront of science, cosmology, and spirituality Laszlo shows how the re-discovery of who we are and why we are here integrates seamlessly with ancient wisdom traditions as well as with the radical new world-view of cutting-edge science, revealing a meaningful and positive way forward for humanity on this planet. They explain how we have reached a point of critical incoherence and show that in order to save ourselves, our environment, and our society, we need a critical mass of people to consciously evolve new thinking. Offering signposts to orient this evolution, Laszlo examines the nature of consciousness in the universe, showing how our bodies and minds act as conduits for cosmic consciousness, and how understanding science's new concept of reality enables us to grasp our true identity and purpose.
Bumper music: Cliff Martinez 'Traffic OST'
Stellardrone 'An Ocean of Galaxies'
Big Bang, consciousness, Ervin Laszlo, evolution, Kingsley Dennis, metaphysics, mythology, natural intelligence, Natural teleology, quantum physics, Scientism
April 19, 2016
Frank Joseph discusses his book Our Dolphin Ancestors – Keepers of Lost Knowledge and Healing Wisdom. Wild animals avoid contact with humans, but wild dolphins seek us out to play and socialize, even going so far as to voluntarily rescue people from drowning. What explains this remarkable natural affinity? Revealing the evolutionary basis for our special relationship with dolphins, Frank Joseph explains how we are both descendants of the same ancient branch of humanity. Building upon the aquatic ape theory, he details how we both began on land but devastating floods forced our distant ancestors into the seas, where humanity developed many of the traits that set us apart from other primates, such as our instinctive diving reflex and our newborns' ability to swim. But while some of the aquatic apes returned to land, later evolving into modern humans, some remained in the cradle of the ocean and became our dolphin cousins.
Aquatic Ape Hypothesis, Charles Darwin, climate change, Cryptozoology, evolution, Forbidden Archaeology, Frank Joseph, mythology, natural intelligence, Natural teleology, telepathy
March 27, 2015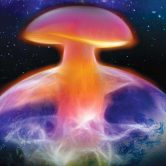 Simon G. Powell discusses his book Magic Mushroom Explorer: Psilocybin and the Awakening Earth. Psilocybin, the active ingredient found in psychedelic mushrooms, is an invaluable natural resource for spiritually awakening the human psyche and reconnecting us to the biosphere and the vast intelligence of Nature. Interweaving the most recent scientific studies in the United States and Britain, more than 25 years of sacred mushroom exploration, and behind-the-scenes details on the political wars against psychedelics, Powell offers a guide to safely navigating and maximizing the healing and spiritual potential of psilocybin. He explores the eco-psychological effects of wild psychedelic mushrooms, including enhanced biophilia, expanded awareness, mystical visions, and eco-shamanic encounters. He reveals how the beings and otherworldly teachers common in psilocybin experiences are actually emissaries from our higher consciousness that emerge when the floodgates of perception have been opened. He shares vivid descriptions from many of his own psilocybin journeys and shows how the mushroom offers a path of return to the ancient wisdom binding all life on Earth, a wisdom conveyed through tutorial visions and higher modes of perception.
Download (Duration: 1:25:52 — 78.6MB)
altered states of consciousness, Ayahuasca, consciousness, evolution, Individual Freedom, magic mushrooms, natural intelligence, Natural teleology, police state, Psilocybin, psychedelics, quantum physics