Found 2 posts tagged 'Luigi Sciambarella'
June 11, 2020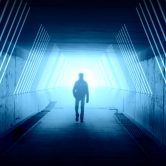 David Ditchfield discusses his book Shine On: The Remarkable Story of How I Fell Under a Speeding Train, Journeyed to the Afterlife, and the Astonishing Proof I Brought Back With Me.
(Stream / download audio at bottom of page)
Across thousands of years, people have described one of the most astonishing of all human phenomena: the near-death experience, or NDE. A near-death experience is a profound psychological event that may occur to a person close to death or in extreme physical or emotional crisis. The associated emotions are intense, and most commonly include peace, love, and bliss, although a substantial minority are marked by terror, anxiety, or despair. Most people come away from the experience with an unshakable belief that they have learned something of immeasurable importance about the purpose of life. The more powerful the NDE, the more profound the after effects. The ambitious reset their priorities. Atheists change their values. Doctors rethink their beliefs.
In the modern world, dominated by scientific reductionism, NDEs are generally viewed as mere chemical by-products of a dying brain. However, evidence that NDEs contain a profoundly important message for humanity continues to pile up, and the accounts recorded in best-selling books such as Raymond Moody's Life After Life and Kenneth Ring's Lessons From the Light are both fascinating and deeply moving. David Ditchfield returned from his near-death experience with amazing artistic abilities previously unknown to him, and this is his story.
Bumper music: Cliff Martinez 'Traffic OST'
David Ditchfield 'The Divine Light'
altered states of consciousness, Anthony Peake, consciousness, Graham Nicholls, life after death, Luigi Sciambarella, Near Death Experience, Out of Body Experience, Penny Sartori, William Buhlman
October 25, 2013
Luigi Sciambarella of The Monroe Institute discusses altered states, lucid dreams and the evolution of consciousness. Out of body experiences (OBEs) and other altered states of consciousness offer some of the most compelling evidence that reality extends beyond our five senses, and that consciousness itself transcends death. These experiences can also lead to awareness that the universe is fundamentally a multidimensional energy field and that all things within it are interconnected. Such realizations hold powerful potential for personal growth, self-healing, problem solving, creativity and – ultimately – profound spiritual awakening.
Download (Duration: 1:05:32 — 60.0MB)
altered states of consciousness, consciousness, life after death, Luigi Sciambarella, meditation, quantum physics, reincarnation