Found 3 posts tagged '7/7'
November 21, 2015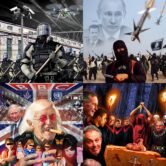 We live in a world of illusion, a realm of the unreal. The primal impulses and drives so central to our being – for meaning, purpose, oneness, and love – are diminished and driven out amid the avalanche of disinformation, duplicity and deceit under which we labour, day in, day out. Our culture has become corrupted, our instincts corroded, and the very idea of truth lost in a sea of lies. Many among us think that it has always been so; still others see a species simply gone astray, forlornly searching once more for the way from which we wandered on some fateful day.
And yet within this matrix of manipulation, we can discover patterns of programming, many of which, while having ancient origins, point to a very modern purpose. An agenda whose endgame is encoded in the symbols and signs that surround us is being expertly executed moment by moment, moving humanity, the Earth itself, and maybe much, much more than that towards a goal impossibly vast. Wading into the world of conspiracy theories, the swamp of secret societies, and a great deal more, we explore intriguing ideas and wild speculation alike, and along the way uncover a decidedly dark and disturbing picture.
Bumper music: Cliff Martinez 'Traffic OST'
John Carpenter 'Dark Star OST'
1984, 7/7, 9/11, altered states of consciousness, apocalypse, artificial intelligence, big brother, CIA, collapse of society, consciousness, corporate control, corporate state, depopulation, dystopia, Individual Freedom, Jay Dyer, magic, mainstream media manipulation, materialism, metaphysics, mythology, NASA, Neuro-linguistic programming, occult, philosophy, police state, popular culture, psychic phenomena, psychology, psychopaths, Science Fiction, Scientism, symbolism, terrorism, The Matrix, World Government
July 27, 2013
Are some people more likely than others to believe in conspiracy theories, and if so, why? Real conspiracies are exposed every day, but where does the line between fantasy and reality vanish? In a recent study entitled What About Building 7? – A Social Psychological Study Of Online Discussion Of 9/11 Conspiracy Theories, Dr Michael Wood and Dr Karen Douglas of the University of Kent (UK) explore these questions, and more. Their research suggests that people who argue in favour of conspiracy theories do so differently from those who argue against them, and that there are distinct psychological differences between those who support conspiracy theories and those who support the official story. Belief systems also have a profound effect on the acceptance or rejection of conspiracy theories.
Download (Duration: 54:15 — 49.7MB)
7/7, 9/11, CIA, cognitive dissonance, Conspiracy Theories, psychology
January 21, 2013
Sociologist Harvey Molotch on his book Against Security: How We Go Wrong at Airports, Subways, and Other Sites of Ambiguous Danger. Remember when an unattended package was just that, an unattended package? Remember when the airport was a place that evoked magical possibilities, not the anxiety of a full-body scan? In the post-9/11 world, we have become focused on heightened security measures, but do you feel safer? Are you safer?
Download (Duration: 1:04:37 — 59.2MB)
1984, 7/7, 9/11, big brother, FEMA, Harvey Molotch, Hurricane Katrina, Individual Freedom, London Olympics, police state, psychology, surveillance, terrorism, TSA